Picture of the Month Archive
Picture of the Month
April 2011
Scrap Tires at a Landfill in Alaska
Photo by Dr. Jim Hanson
Approximately one scrap tire per person is generated in the U.S. on an annual basis. 
The amount of unmanaged stockpiled tires exceeds 100 million tires. In recent years
management of waste tires has improved with increased recycling and reuse rates
and the amount of stockpiled tires has decreased significantly.
May 2011
Recycled Construction and Demolition Waste
Photo by Dr. Nazli Yesiller
Construction and demolition (C&D) waste consists of the materials generated during construction, renovation, and demolition of infrastructure components such as buildings, bridges, roadways, retaining structures, drainage structures, and large scale energy production and manufacturing systems. C&D waste contains concrete, wood, asphalt, metals, glass, gypsum, soil, and additional materials.
The annual amount of C&D waste in the U.S. is estimated to be 325 million tons, which constitutes a significant resource for recycling and beneficial reuse.
June 2011
Recycled Cans
Photo by Dr. Jim Hanson
Approximately 50% of the 1.4 million tons of beverage cans generated in the U.S. is recycled.
July 2011
Composite Liner 
Photo by Dr. Nazli Yesiller
Installation of a composite liner system in a Municipal Solid Waste Landfill.The Geomembrane - GCL liner represents the most common type of liner system in current use.
August 2011
Material Staging Area
Photo by Dr. Jim Hanson
Material staging area at a facility that recycles construction and demolition (C&D) waste. More than 300 million tons of C&D waste is generated in the U.S. on an annual basis. Only a portion of the C&D waste is recycled.

September 2011
India Landfill
Photo by Dr. Jim Hanson
Uncontrolled waste dump in a developing country. People and animals have direct access to waste. No controls or engineered systems are present for containing the wastes or the effluents (liquid or gas) from the wastes.

October 2011
GCLs in a Field Simulation Test
Photo by Dr. Jim Hanson

Graduate student Greg Olsen is taking measurements on Geosynthetic Clay Liners (GCLs) in a field simulation test. GCLs commonly are used in containment systems. Research is underway at GWRI to investigate the dimensional stability of these materials under variable environmental and operational conditions.
November -December 2011
2011 US-Japan Workshop Participants
Photo by Dr. Jim Hanson

Participants of the Second U.S.-Japan Geoenvironmental Engineering Workshop that was held in Kyoto, Japan October 8-9, 2011. The Workshop included lectures, breakout working sessions, technical field visits, and cultural activities. The Workshop was co-organized by Kyoto University and GWRI.

January 2012
Semi-Aerobic Landfill in Japan
Photo by Dr. Jim Hanson
Overview of a semi-aerobic landfill facility in Asahikawa, Japan. Steam from the warm waste is rising from the open wells installed in the waste mass to promote oxygen entry to and aerobic decomposition in the landfill.

February 2012
Geomembrane Expansion
Photo by Dr. Nazli Yesiller

Geomembranes expand significantly in warm weather that needs to be alleviated during construction of overlying layers to prevent formation of wrinkles and potential adverse effects on the performance of the liner systems.

March 2012
Cracked Clay Test Plot
Photo by Dr. Hong Mi
Large-scale laboratory test sample used for simulating response of compacted clay against wet-dry cycling.
April 2012
Earthwork at a Landfill Site
Photo by Dr. Jim Hanson

Significant earthwork is required at landfill sites ranging from slope construction and installation of liners to construction of leachate collection and removal layers and sumps.

May 2012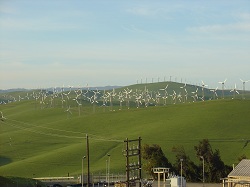 Wind Turbine Farm
Photo by Dr. Nazli Yesiller
Windmill farm adjacent to a landfill in California.

June 2012
Large-Scale Test Samples
Photo by Dr. Nazli Yesiller

Large-scale (45 cm diameter) hydraulic conductivity test samples obtained from alternative cover test plots a landfill in California.

July 2012
Recycling of Municipal Solid Waste
Photo by: Dr. Nazli Yesiller

Recycling of municipal solid waste increased from approximately 10% to 35% since 1980.

August 2012
Use of recycled tires
Photo by: Dr. Nazli Yesiller
Use of recycled tires in a drainage swale at Pitsea landfill in England.
September 2012
Newspaper from 1960
Photo by: Dr. Jm Hanson

Newspaper from 1960 at Pitsea landfill in England.  The newspaper had not yet degraded in a dry pocket in the landfill cell.
August 2013
Extensometer Installation
Photo By: Dr. Nazli Yesiller
Installation of magnet extensometers for measurement of waste settlements at the Santa Maria Landfill in Santa Maria, California by Jim Hanson (GWRI Faculty); Jason Cox, Michael Onnen, Taki Chrysovergis (graduate students); Andy Flores (undergraduate student); Jeff Clarin (Solid Waste Manager, City of Santa Maria); and Doug Shearer (Heavy Equipment Lead Operator, City of Santa Maria).
September 2013
3D Optical Interferometer Image
Photo: Mr. Derek Manheim

A stitched image of a manufactured geomembrane (GSE, Inc.) is presented. The image was obtained using an optical interferometer aquired by GWRI from a NSF grant. The optical interferometer allows for advanced surface texture quantification of most civil, geotechnical, and geoenvironmental engineering materials.
Related Content